High Quality, Affordable Flooring Prices
At Nature's Touch, we strive to bring budget-friendly prices to all our residential and commercial clients. We believe in paying close attention to details and ensuring each job is above and beyond.
Our owner, Jake, personally oversees each project. He and our team have a keen eye for detail, and Jake personally ensures each job is above and beyond and gives his honest opinions to ensure your flooring looks the best.
Commercial and Residential Flooring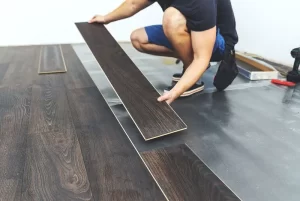 We offer our services to commercial and residential locations across Dakota and Scott County. We install our flooring with your home or business in mind, and ensure it's done promptly.
We offer Coretec and Flooret brand flooring that you can view below, and we happily will install any flooring you have already purchased. We don't mind if you bought from a place we recommend or not- we just want to make sure you have perfectly installed flooring. Below are the types of flooring we currently install:
Hardwood
Engineered Wood
Laminate
Carpet
Tile
Vinyl Plank
If you're unsure about what type of flooring to go with, we will happily give our professional opinions or tips on cleaning or preventing damage to your flooring.
With nearly two decades of flooring and contracting experience, we are proud to provide quality service with attention to detail. To inquire about our service areas or flooring services, fill out a contact form here.
We offer free estimates, and as a show of gratitude for their service, all first responders and military get a discount on our services. We also provide kitchen remodeling, bathroom remodeling, basement remodeling, and deck building.